28. Why maintain soil potash reserves? (1.19M)
pdf 1.19M
28. Why maintain soil potash reserves?
Published May 2007
The supply of naturally occurring, plant-available nutrients in the soil plus the amounts recycled through organic manures, mainly farmyard manure and slurry, are usually too small to achieve economically acceptable yields. The yield benefits from using fertilisers have been considerable. For example, in the UK the average annual yield of winter wheat increased from about 2.5 t/ha grain in the 1940s to an annual average of about 8.0 t/ha today. This increase has resulted mostly from an increased use of nitrogen (N) on soils with an adequate supply of K and phosphorus (P). However if K and P are in short supply in the soil, the applied N will be used less efficiently than it should be, resulting in a direct cost to the farmer. During growth, crops need as much K as N – some need more. Effective use of large amounts of nitrogen must be matched by appropriate applications of potash.
Nitrogen and potash uptake by a cereal crop
In recent years, threats to the financial viability of many farm enterprises, due to market prices and enforced set-aside under the Common Agricultural Policy have combined to decrease potash use. Figures for West Europe show a marked decline in potash use in recent years, a decline not mirrored by the use of potash in North America. Farmers in North America still value potash, and could have a competitive edge in future as downward trends here have an adverse effect on yield.
Potash use in West Europe and North America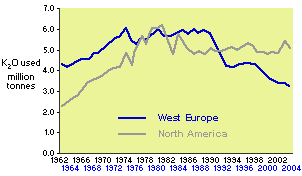 Changes in potash use in the UK are similar to Europe, but with a more marked decline in potash use in recent years.
Potash use in the UK

This decline in potash use presents a risk to long-term soil fertility because the potash balance (potash applied minus the potash removed in the harvested crop) for all arable crops has been negative since the early 1990s and the deficit is getting greater.
K2O offtake, input and balance for England and Wales arable crops