Introduction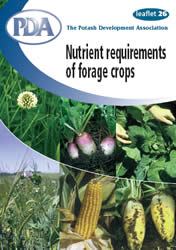 Forage crops can produce very high yields of digestible nutrients and can be a useful means of reducing overall feed costs. Achievement of high yield is an essential requirement to achieve low unit cost and depends upon good husbandry and in particular, attention to crop nutrition. Annual forage crops also offer a very useful opportunity of utilising slurry or FYM to maximum advantage without the problems of sward contamination associated with grass.
A 3 year study undertaken by Kingshay Farming Trust and supported by the Potash Development Association has examined the nutritional needs and performance of a range of forage crops. The key results are reported in this leaflet.
The crops
The 3 year trial involved :-
Whole crop wheat
Italian ryegrass for silage (IRG)
Perennial ryegrass/white clover for silage (PRG)
Fodder beet
Kale
Maize for silage (1 year only)
Manure
Between 30-50 t/ha of manure was applied to each plot with the aim of applying the maximum rate of 250 kg/ha of total nitrogen then permitted. The manure used contained very typical levels of nitrogen and phosphate and slightly lower than average levels of potash. The rates applied on average provided a total of 221 kg/ha of nitrogen, 124 kg/ha phosphate and 234 kg/ha potash.
Nitrogen
It must be noted that nutrient content of manure varies widely and the individual samples, measured by laboratory analysis in this study, emphasised this difficulty. In a farm situation nitrogen content can be measured fairly accurately using one of the commercially available testing kits. Between 15-25% of the total N in the manure was assumed to be available for the forage crops in the trial, depending upon time of application. Supplementary nitrogen fertiliser was applied based on site history and individual crop yield potential. Rates were varied over the 3 years and were not designed to test the optimum rate of N for the individual crops on this site.
Average rates of available manure N + fertiliser N were :-
N

kg/ha
Wholecrop wheat
163
IRG
261
PRG/white clover
247
Fodder beet
129
Kale
211
Phosphate and potash
Phosphate and potash usage (manure + fertiliser) was based on soil analysis:-
| | | |
| --- | --- | --- |
| | P2O5 kg/ha | K2O kg/ha |
| Wholecrop wheat | 125 | 216 |
| IRG | 129 | 276 |
| PRG/white clover | 130 | 275 |
| Fodder beet | 116 | 251 |
| Kale | 132 | 218 |